***Have you entered my Thirty-One giveaway yet?? What are you waiting for? Giveaway ends Monday January 9th!***
This year, I quietly resolved to do more with this blog.
Try and write more often and more deeply from my soul.
Collaborate more with my fellow bloggers. Read and meet some new ones.
Maybe even work on my punctuation skills a little bit more. (maybe)
I didn't want to get too specific because I tend to have a problem with consistency when it comes to blogging.
Case in point: On January 1st I signed up and vowed to do a 365 photo a day. As of today, I have not taken a single picture.
Another thing I wanted to do in 2012? Create (&stick to) a successful weekly meme. Weekly meme's are great for when you can't think of something on your own to post about. My hopes are that this little meme will become that for people. A place to come when you need a little nudge to get you through a bout of writers block or a week where you don't feel like thinking too much about your posts!
So without further ado I'd like to introduce...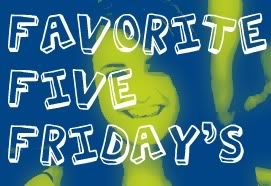 Have a song you can't stop moving to this week? Or a blog post you read that you just can't forget? Maybe you tried a new recipe this week or obsessed over something on Pinterest. Big or small, end the week on a high note and share your 5 favorite things from the week. Grab the button and link up!!
The Linky will go live next Friday at 12am and stay open all weekend each week. To start you off, I'll share my #FFFriday with you today!
1.)
LAMFO-Sexy and I Know It
- I realize it may be played out for some of you, but I don't listen to the radio much these days so I still find it ridiculously funny and catchy. And you really haven't lived until you can hear your toddler say, "Girl, look at that body"!
2.)
My Baby Bijorn
: I would not get anything done these days without the help of this device. As a matter of fact this post is brought to you by the Baby Bijorn!!
3.) Jamaican Me Crazy K-cups by Wolfgang Puck- This coffee has a hint of coconut goodness and is super yummy. I need at least 2 cups a day to function!
4.)
The Celebrity Round-up over at It's Blogworthy:
In the interest of saving money, I am considering giving up my US Weekly subscription. I've been a loyal subscriber for years, but between the Internet and Amanda's awesome recaps, I know I can get all the same info and save myself $60 a year!
5.) The weather: I know I'm probably jinxing it, but it's January and we still haven't seen any major snow or sub-zero temps. Yay for a mild winter so far!