Happy Friday the 13th!!
I introduced Favorite Five Friday's last week.
It's my pet project for 2012 and I'd love for it to
take the nation by storm
catch on.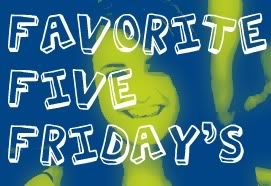 So what are my favorite things from this week, you ask??
First things first, I am LOVING Jason Mraz's new video/song released on iTunes. I am so excited for his new album to come out, and if this song is any indication as to what the new album will sound like, then it is going to be awesome!
On a totally different note, do you know how you know you are getting old??
When the thought of a new appliance excites you.
If you
follow me on Facebook
(& you should) then you know that I had a sad stove situation going on. Not only did our smoke alarm go off everytime we turned the oven on, but the screw holding the front of the door melted and caused half the door to fall off. Only half, not the whole thing, which makes for a really pretty picture. Needless to say we needed a new one & this shiny new one arrived on Saturday:
isn't she pretty??



Also awesome?? I bought her online through
Ebates
and got $29 cash back since it was double cash back at Sears.com. Add that to the $50 or so I racked up over the holidays with my Christmas shopping and I have almost $100 coming to me this February. I've said it once and I'll say it again, if you aren't using
Ebates.com
you are cray cray.
Sign up now & tell them I sent you
!! It's free and it's awesome. (Also, I have to give a shout out to ebates.com customer service. I had a problem with some of my cash back purchases not being credited to my account and they fixed the problem right away!)
Rounding out my week...
*
Amanda at It's Blogworthy
totally got me hooked on Tiny Towers, a new game app for the iPhone. Connect with me in the game center: mamainsomnia
*New shows are starting back up!! Shameless on Showtime, 30 Rock on NBC, Dance Moms on whatever network they are on. And the Golden Globes are on this Sunday. I'm sure I'll be tweeting up a storm, so of you don't already, hit me up on Twitter so we can judge celebrities all night!! I LOVE awards season!!!
What are your 5 Favorites this Friday? Link up and grab the button!!