Fall is my all time favorite season. EVER.
There is a crisp coolness in the air, but it is still nice enough to do things outside.
Apples are the yummiest.
And um...FOOTBALL!!
I could go on. And on. And on.
But I'm saving my best stuff for my up coming meme...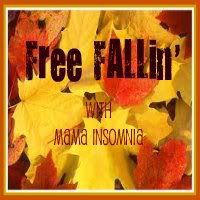 What do you like best about Fall??
Join me Monday, August 22nd - Sunday, August 28th and link up a post about why you love fall. There are no set prompts so feel free to get creative. Some ideas to get you started...
*A top ten list of your favorite Fall activities
*A picture of your favorite Fall moment
*You best Fall recipe
*Fall Fashion: Your favorite looks
*A DIY fall decoration or craft idea.
*Football-Fan or not?? If you are, why is your team the best??
*Not a Fall fan?? Tell us why and what season you prefer!


The link up goes live Monday the 22nd at midnight and will run all week. Feel free to link up as many posts as you'd like but please make sure each link up is directly to a specific post.

So get your posts ready and link up on the 22nd!!