Yesterday we had our big ultrasound and got our first real look at Baby 2! Since my appointment was with a Maternal Fetal Specialist he was kind enough to switch over to 3D mode which made me feel a little better about the $40 co-pay that went along with his services.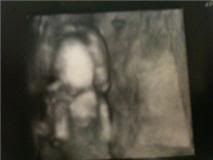 He was playing peek a boo!
There HE is!! Yep, another boy, at least we are 99% sure. The cord was also laying between his legs so it was hard to get a clear picture but we all thought we saw his little boy part. (BTW, it really irritates my husband that I call it his "little" thing)
I am overjoyed that it is a little boy for a number of reasons...
#1- Now I know we are more likely to try for a 3rd at some point which is the number of kids we always talked about. Though this next one won't be anytime soon. I think if we had a girl this time around we probably would have stopped.
#2-Practically speaking, this works out AMAZING!! Since this little boy will be born a week or so after Jack we have all the same clothes, in the same season!!
#3-We only have a 2 bedroom house so this makes room sharing a little easier.
#4-To be honest, parenting a girl, more specifically a teenage girl, scares the living crap out of me.
Of course I realize that with 2 little boys on the loose, my dreams of a clean, well styled home are probably for naught but I guess I just have to roll with the punches! Now it's time to get down to business and think of names. Ironically, we really haven't thought of boys names only ones for a girl. I'm accepting suggestions!!!
On the health front everything looks good with Baby 2's development. As far as I go, I haven't heard anything yet about my test results so I am assuming no news is good news. I go next week for my regular appointment so I'll know more then.
Also...I am looking for guest posters!! If you are interested please email me at
mamainsomnia@gmail.com
I am also interested in guest posting, so if you want a break from blogging let me know. I really want to get back into the routine of posting regularly again and sometimes knowing you have to write for someone else is more enticing than actually writing for yourself!