I'm not a cookie person. I don't have much patience so the thought of all the mixing and baking and decorating doesn't really appeal to me. I do however still have a sweet tooth and I like the idea of holiday baking so to compromise I whip up a few batches of homemade toffee and throw them in some pretty tins. (Ok... I eat
some
a lot of it too...don't judge)
These tins filled with yummy homemade candy are perfect gifts for neighbors and also make a great hostess gifts for all your holiday
shindigs
.
As an added bonus they are super easy to make.
Saltine Toffee
4 ounces saltine crackers*
1 cup butter
1 cup dark brown sugar
2 cups semisweet chocolate chips
3/4 cup chopped pecans**
Directions
Preheat oven to 400 degrees F (205 degrees C).
Line cookie sheet with saltine crackers in single layer.
In a saucepan combine the sugar and the butter. Bring to a boil and boil for 3 minutes. Immediately pour over saltines and spread to cover crackers completely.
Bake at 400 degrees for 5 to 6 minutes. Remove from oven and sprinkle chocolate chips over the top. Let the chips sit and melt for a minute and then use a spatula to spread the chocolate around. Top with nuts. Cool completely and break into pieces.
* you can also use graham crackers. I prefer saltines because I like the sweet/salty combo.
**feel free to experiment with different toppings. I prefer walnuts and I also like to sometimes throw some Heath pieces on top too. Or you can get really
festive
and throw some chopped candy cane bits on it!
Now some other business...
* Stay tuned this week. I have an exciting new giveaway coming up!! (I'll give you a hint...it's sparkly!)
*Because I like to giveaway things to you guys I would really appreciate a vote or 2 on Picket Fence blogs. I want to get my traffic up a bit more so I can host more giveaways! (You can vote one a day!!)
*I'm trying my hand at a new link party and participating in Word Up Yo! Join in the fun
here
.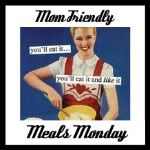 -Please link up a recipe below and if you would be so kind as to grab my button and put it in your post I would be grateful!
Link Recipes HERE!!