Thank you to everyone that participated last Monday. My hope is that each week more and more of you participate so we can share as many recipes with each other as possible! I was feeling a little tech-savvy last week and decided to make a button so please feel free to grab the MFMM button and add it to your page: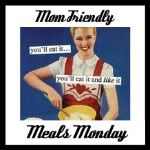 Like the button? Visit
http://www.annetaintor.com/
for other great images!!
So now onto to the meals...
Lately I have had a borderline obsession with grilled cheese sandwiches. Now that Jack is eating more solids and real people food, we have been giving him bits of grilled cheese sandwiches for lunch. I was never really a big fan of grilled cheese, but one day I found myself finishing the half he didn't eat . I enjoyed it, but chalked it up to extreme hunger. Until I was craving another one hours later. And thus the obsession began.
Grilled Cheese sandwiches are a great go-to dinner because they are something the whole family can eat.
I make Jack's the real quick and easy -or some would say lazy-way. I toast 2 slices of bread, add 2 slices of American cheese to them and pop it in the microwave for 10 seconds. For older kids, you can do the same thing but cut them into sticks. Give them some tomato soup or even a little spaghetti sauce and let them dip the "cheese sticks" in them.
As for the adults, there are plenty of ways to turn the basic grilled cheese into a more mature, and filling, sandwich. I've been experimenting-thank you Facebook friends- this past week and here are some of my favorites:

-White Bread, American Cheese and Tomato (if you really want to make this amazing try it on Texas Garlic Toast-it's EPIC)
-Sourdough bread, Munster and Colby Cheese,
grilled onions. (I also tried adding sliced honeycrisp apple to this sandwich which was delish)
-Sourdough bread, Colby and Provolone, Turkey Bacon and Avocado.
Here are a few tricks I've learned too:
-try swapping out butter for Miracle Whip...it gives the sandwich a little zip. Just be careful to not use too much because it can make for a soggy sandwich.
-Add a little olive oil to the pan. It add's a nice little crunch to your sandwich.
-cook slow and low...reduces the chance of burning the bread,.
Don't be afraid to experiment and add things that you like. No one says that a grilled cheese has to be boring!
Enjoy your sandwich alone or add a side to really make it a meal. Some great grilled cheese accompaniments include:
-Tomato soup-the good old standby...but any soup will do.
-Chili-we always make a big batch and freeze it. It's easy to thaw for a quick dinner!
-Sweet potato fries. (Most major grocery stores sell them now, or you can make your own by slicing up some sweet potatoes and baking them)
-Mac and Cheese.
-A nice salad
Welcome all visitors from any of Monday's blog hops! I hope you can link up and share with us.