Thanks to the Hubs hard work yesterday we are back up and running!
I tried my best to catch up on as many things as I could, but I have a little confession to make...being without my computer for a few days was actually relaxing. (a little scary at times-but for the most part relaxing)
Which is why
this post
form Julia over at
Work, Wife, Mom...Life
really resonated with me.
Sometimes I find myself caught in an internal battle over this blog. On the one hand, I started it as a creative outlet because I love to write and thought it would be fun- even if no one read it. But on the other hand, I secretly hoped people would love it. I hoped that someday I could make my living by just sitting at my computer and sharing my thoughts with the world. That I would have 1000's of followers. People would leave long & meaningful comments on my posts. Vendors would be banging down my door to review their products and host giveaways.
But getting to that point is hard work...at least a lot harder than I thought it would be. True, there are some bloggers that are lucky enough to just have that certain "Je ne sais quoi" that makes people flock to them. But most successful bloggers work hard to build their blog. By participating in Blog hops and posting on blogging communities. By visiting 100's+ blogs everyday and commenting. But sometimes in the process, their blogs become more about followers and advertising and less about "them" (or whatever else they started blogging about)
So where am I on all this?
Well, like my actual life, I hope to find a balance. Yes, I would love to have more followers. I would love to have some sweet giveaways here and there to reward my awesome readers. (and I do have a few coming up!) I would love to guest blog and host some guest blogger's. And sure I wouldn't mind a few people paying me to advertise their product on my blog- if I felt it was a product that could benefit my readers.
But I am also OK with who I am as a blogger right now.
I've "met" some pretty great people blogging. People who visit my blog every post regardless of how "big" I am in the blogging community. People that don't mind my sarcasm, some times skewed logic, or my overuse of ...
There are even people that give me awards. Like
Reluctant Writer over at Pacifier's, Pumps, The World
who gave me this (Thanks!!):

According to the rules I have to tell you 7 things about myself and then pass this award on to 10 other bloggers. So here you go:
1.) I am currently in the middle of 3 different books. I have this horrible habit of starting one, reading a little bit, forgetting about it and starting a new one.
2.) I take my pills opposite of the way normal people do-at least that's what my husband says. I put the water in my mouth and then swallow the pill.
3.) Unless it is actually crawling on me, I will not kill a spider in the house. I think they are
good luck
.
4.) I can hyper-extend my elbows
5.) I hate cleaning baby bottles
6.) I don't use soap to wash my face, I just rinse it with water. I used to have really bad skin and since doing this, I now rarely get a break out.
7.) I like to sometimes talk in accents and I thinks lisps are cool.
Here are the bloggers I am passing this award on to. Check them all out!
http://lastsplash-cannonball14.blogspot.com/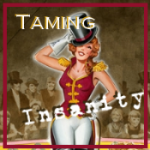 Hope you all have a great weekend. I still have some catching up on my DVR before we can talk new shows. And come back Monday for Mom Friendly Meals Monday!